LET CUSTOMERS KNOW YOU
Say "interactive design" and most people think point-and-click. Give customers something that they can touch and feel, and design becomes truly interactive. That's what we do. Whether it's a glossy brochure or a memorable business card, we help customers touch and feel your brand.
A great idea can inhabit so many forms — a stylish brochure, an eye-catching ad, a funny wine label. At After Dark Grafx, we go one step further and marry great ideas with solid execution, so you have the technical know-how behind your project to get a stellar finished product.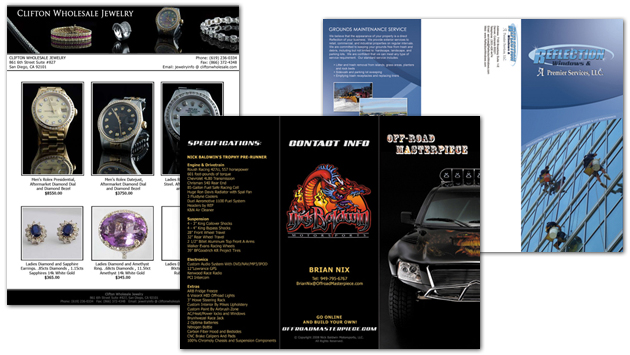 ---

more from our portfolio
Experience you can rely on
Our designers have years of experience and expertise in all aspects of print production so that you don't have to. We know typography. We know paper. We've got you covered. Put us to the test. Tell us about your project and we'll tell you how we can help.
---

more from our portfolio
1. Initial consultation with client.
2. Quote is remitted to client per consultation and any further requests.
3. Quote is Accepted and Service Agreement is remitted for client to retrun to begin service.
4. Content is supplied to After Dark Grafx (images, text, etc.).
5. Project Sample is created and posted online for client to review.
6. Client accepts design and project is completed. If design is a website, the remaining pages of the website will
be created and posted online throughout the design process for client to approve. If design is a print piece,
then file will be formatted for print.
7. Client may supply any addtional content throughout the design process. It is best to get all content to After
Dark Grafx in the beginning stages of the project to ensure time contraints are adhered to and to cut down on
confusion.
8. Design/Website will then be placed online for final review by client.
9. Client accepts final product and files are created in HI Resolution Format and provided in PDF, TIFF, EPS and RAW Digital FIle used to create product (PSD, ILLUSTRATOR, etc) or website is made active.
10. Balance for project is due.
Click GET STARTED below to fill out a Quote Request and have a representaive contact you about your needs.