Accept Credit Cards Today!
Visa, Master Card, American Express, Diners, Discover, ACH, Electronic Checks, etc.

Why Accepting Credit Cards Can Boost Your Sales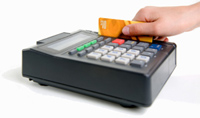 Accepting credit cards is becoming a must for entrepreneurs and small businesses in today's business environment. There are numerous social, demographic and technological factors combining to make plastic the payment form of choice for increasing numbers of people.
Even as credit card use grows in the real world, plastic already dominates the world of Web shopping. This breakdown of how people pay for online purchases demonstrates that credit cards are the key to e-commerce:

Credit card online - 85%


Check mailed - 10%


Credit card via phone - 2%


Credit card via mail - 1%

FAQS:
You may only need a Gateway to conduct online transactions. In most cases, an Online Gateway can be added to your existing Merchant Account in order to allow for online transactions.
If you are just starting our or would like to have a New Merchant Account for Online Transactions, you will also need an Online Gateway. Our Online Application allows you to sign up for one or the other or both.
Still confused? Call Us Toll Free 1-888-578-8300 or (619) 702-7377.
Why are the Rates for Online Transactions higher than my in store retail rates?

ANSWER: It is a matter of security and increased risk for the Merchant Account provider to allow this type of transaction to occur. In a retail FACE-TO-FACE environment, you can check the customers ID as well as swipe their PHYSICAL credit card. With online transactions you have neither so their is more of a risk for the provider.
Aren't there more FRAUDULENT TRANSACTIONS with Online Orders?

ANSWER: In general, Yes. But by utilizing FRAUD protection within your account and REQUIRING the AVS (the 3 or 4 digit number on a person's credit card) that is linked to their billing address. AVS stands for Address Verification Service. Please see How To Identify Fraudulent Transactions within your control panel once you sign up for service. By utilizing the best practices for FRAUD you will reduce your percentage from little to none.
What is a Merchant Account?

ANSWER: A merchant account allows you to accept credit cards.You select the types of credit cards you would like to use upon signing up for the service. Please note that each type of credit card has it's own fees/interest rates.
What is a GATEWAY?
ANSWER:The gateway is what checks to see if the credit card is valid. If so, it charges or authorizes the credit card and then deposits the settled amounts charged for that day within 3 to 10 business days, depending on the vendor.
Ready to Begin?
NEW MERCHANTS:
You will need to signup for the MERCHANT ACCOUNT & GATEWAY PLAN
It takes approximately 7 to 10 business days for the account to be approved and active.
You will also need to submit a voided check and a signed W-9.
ALREADY HAVE A MERCHANT ACCOUNT?
If you already have a merchant account and just need to add a GATEWAY to your existing merchant account you may do that as well.

Want to Learn More?



Online Videos

See HOW IT WORKS

Questions? Please Call
Toll Free: 1-888-578-8300
Local San Diego: 619-702-7377
After Dark Grafx sales representatives are available
Mon-Fri 10am - 6pm (PST) to answer any of your questions.