We Offer a multitude of Ecommerce Shopping Carts for you to use including Miva Merchant, Magento Ecommerce, WooCommerce (must have WordPress Website), CubeCart, PhpCart and more.
We are a Certified Developer for Miva Merchant and prefer to develop for this platform.
MORE ABOUT MIVA MERCHANT
Miva Merchant is a dynamic storefront development and management system that enables merchants to create, enhance, and maintain an online storefront presence easily, all from their web browser. From easy point-and-click look and feel enhancement to advanced management of order and customer data, Miva Merchant can do it all.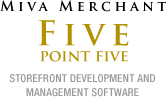 Miva Merchant includes a complete set of step-by-step wizards to simplify the process of building a store, for e-commerce beginners. It also includes an Advanced Administration mode, for those users who are more familiar with the inner workings of an online storefront, which allows access to an assortment of built-in features. Aftermarket modules integrate seamlessly, providing additional features and flexibility, thanks to Miva Merchant's modular architecture. We know Miva!

Sign up today and receive a FREE Miva Merchant™ Shopping Cart License ($995 VALUE) for use on our servers.
We are a Miva Certified Business Partner.
Easy to Get Started, Configure and Customize!
Miva Merchant has a number of convenient, point-and-click enhancement tools designed to give you flexibility for customizing your store. Miva Merchant offers HTML-ready headers and footers on each storefront page. You can also easily integrate your Miva Merchant storefront into your existing website, or use the look and feel tools to create a unique, stand-alone shopping experience.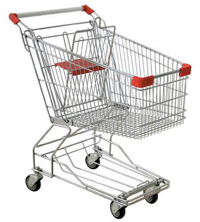 If all of the features included in Miva are not enough for you, don't worry. Miva Merchant is specifically designed so developers and aftermarket vendors can implement their own customized modules around a common API. What this means for users is, Miva Merchant can easily accept plug-in modules from third party developers, to expand on the already wide array of built-in features. With Miva's extensive Developer Network, finding a module to meet your e-commerce needs is a breeze. No matter what you may need your Miva Merchant storefront to do, with the availability of third-party modules, anything is possible.
Easy To Manage
Miva Merchant has extensive management systems that handle all the aspects of products, categories, customers, and orders. With an easy-to-use administrative interface, managing all of your store's data has never been easier.
The Order Process
Someone orders from your website. The customer is displayed an invoice for printing. They will receive an email with the order. You will also receive an email with the order. The credit card is billed automatically and you collect payment. You send out their order! Simple!
Easy to Collect Money
Miva Merchant has a wide variety of built-in payment modules, designed to work smoothly with industry leaders. These payment modules were designed in partnership with the Payment Gateway providers, to ensure security and ease-of-use. Just turn it on, enter your account information, and the payment module does the rest.
Included Payment Gateway modules: (some payment gateways not available in Miva 5 ask us): Miva Payment, Authorize.Net, Cardservice/LinkPoint, Check Payment, COD, Credit Card Payment with Simple Validation, CyberSource, debit-it!, E-Commerce Exchange/QuickCommerce, e-ValuCheck, GlobalCommerce, Innovative Gateway Solutions, Lynk Internet Processing, Moneris e-SELECT, Paradata Payment Service, PayPal, PayQuake, Rodopi, US Merchant Systems, Verisign Payflow Pro, Verisign Payflow Link, some gateways may no longer be available.
Easy to Ship Orders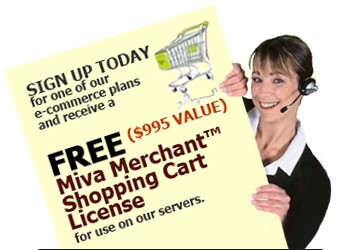 FedEx, USPS, and UPS shipping calculators are included with Miva Merchant. These modules retrieve shipping rates directly from the service providers based on the weight of the order and the distance it will be traveling. In addition to these automatic shipping calculators, we have included a number of table-based shipping modules to help you offer a range of shipping options to your customers. With the table-based shipping modules, you can build your own shipping rate tables to meet your needs.
Easy to Calculate Tax
Configuring sales tax can be a difficult task for a storefront administrator. But with Miva Merchant, we have covered all possible ways sales tax could be calculated, and built tools to help you charge the right amount. From automatic sales tax percentage calculation with CertiTAX to entering your own sales tax or VAT charges, Miva Merchant covers all bases.
Easy to Sell Worldwide
No matter if you are selling your products in the US, or anywhere else in the world, Miva Merchant can display your product prices in just about any currency format. Preset currency templates for US and European currency make it easy to adjust your storefront for those markets. With the Generic Currency module, you can define your own currency layout.
We offer complete storefront systems like Miva Merchant 5.x, Magento, WooCommerce (WordPress Website Hosting needed), osCommerce, Cubecart, PhpCart and more.
Miva Merchant Integrations

Miva Merchant Integrations from our Portfolio

What our clients say about us
Step 1: Register a Domain Name
Step 2: Sign Up for one of our E-Commerce Packages
Step 3: Sign Up for a Merchant Account (more info)
Step 4: Sign Up for a Digital Security Certificate (more info)
Step 5: Set-up your online store, integrate the Merchant Account and Digital Security Certificate, Add Products (pictures, descriptions and pricing) you are DONE!
We are a ONE STOP SHOP. We handle EVERYTHING from registering your domain name, supplying a merchant account, setting up your shopping cart/storefront and most importantly, marketing your site after it is completed. We get your store up and running fast! All you have to do is Add Products and Start Selling!
READY TO GET STARTED?
Already have a Miva Merchant website and need consulting ormaintenance/updates?
Contact us today!