SUPPORT OPTIONS

Fill out the online support form below.


CHAT with us live. Click on the LET'S TALK bottom right of your browser


Phone: (619) 702-7377 or Toll Free : 1-888-578-8300.

Phone Support Hours: Mon - Fri 10:00am to 6:00pm

Make a Payment Online - Click Here

SUPPORT FORM

ACCOUNT SUPPORT
Please note: We will never email you asking for your Client ID, Credit Card Number or Password. Please forward any emails of this type to our support department.

Find your password and client id number - please call us (619-702-7377)


Update/Change your passwords - please call us (619-702-7377)


Update credit card number - please call us (619-702-7377)


Change contact email - - please call us (619-702-7377)


Cancellation request form (pdf file)


FAQS


Lost your Domain Password? Send us an email containing the FTP information and the EMAIL address used to open the account.
EMAIL SUPPORT
How to configure your email software
Basic Email Setup
After Dark Grafx, Inc. does not support third party email programs like Outlook, Outlook Express, etc.
Please consult the HELP menu of your program or contact the program vendor for help.
Here is a basic guideline for setting up your email:
INCOMING MAIL SERVER: mail.yourdomainname.com (or mail.yourdomainname.com) you will have to see which works with your program. Both are viable options. This is considered a (POP3) email server.
OUTGOING MAIL SERVER: mail.yourdomainname.com (in order for you to send email, you must first check your email. This will authenticate you and allow you to send email for a period of time. If you are having trouble sending email. Hit your SEND/RECEIVE button or RECEIVE email button a few times so you can send email. If you are connected through a Hi-Speed Internet Connection (not dial up) it is recommended that you use their outgoing (SMTP) mail server to avoid any problems.
HOW TO:
In Outlook or Outlook Express:
Go to:
1. TOOLS
2. Select ACCOUNTS
3. Select the ADD (button with the arrow)
4. Select MAIL
5. It will say -> Display Name Put whatever you want to identify this account to you - Just so you know what this account is for)
6. Select NEXT
7. Type in your email address: you@yourdomainname.com
8. Select NEXT
9. Incoming Mail: mail.yourdomain.com
10. Outgoing Mail: mail.yourdomain.com
11. Select NEXT
12. Account Name: your email account (if it is joe@yourdomain.com then you would put joe@yourdomain.com here.)
13. Pass: the one we provided
14. Make sure there is a CHECKBOX where it says REMEMBER PASSWORD
15. Select NEXT - Select FINISH - and CLOSE or APPLY settings then close the window.
16. To Test, send an email to you@yourdomain.com
17. Wait a minute select SEND RECEIVE
If you are having problems sending email, you may need to go back into your program to:
1) TOOLS
2) Select ACCOUNTS
3) Select the Account
4) Select PROPERTIES
5) Select the SERVERS TAB (top of this window)
6) At the bottom of this next window, make sure there is a CHECK BOX where it says MY SERVER REQUIRES AUTHENTICATION.
7) Select the SETTINGS or PROPERTIES next to this option
8) a) If you are using your domain as the outgoing server:
Select USE SAME SETTINGS AS MY INCOMING MAIL SERVER.
b) If you are using your own internet provider (example: Cox, SBC, Etc.)
Select LOG ON USING
Enter your Username and Password for your ISP.
IMPORTANT: If you are using your own ISP for sending email (outgoing server) make sure you have THEIR SMTP (OUTGOING SERVER) information in the OUTGOING MAIL (SMTP) Box or you will not be able to send email.

Setting up a Vacation Message or AutoResponse Message


Spam Preferences


Help with all email issues


NEW OFFER: Use SPAM ARREST to help STOP SPAM
(watch an animated demo of how Spam Arrest works)

NEW OFFER: Spam still driving you crazy? Ask about our Barracuda Spam Firewall Service.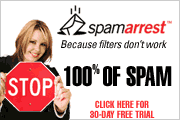 QUESTION: People are having problems emailing me!
ANSWER: #1 Add them to yourr WHITELIST or APPROVED senders or ADDRESS book. Each email service and software is different. Please see your HELP file on the software or service that you are using for more information. If the emails go into your spam folder, just select the email and mark it as NOT SPAM or NOT JUNK or add them to your CONTACTS or ADDRESS book.
ANSWER: #2 Their email service may be blocked by our firewall. This happens when a user is on a network or IP address that is known to have spam issues. After Dark Grafx servers use multiple spam lists to check to see if the email that is coming into the server is spam by using these lists among other techniques to block spam. If you are a current After Dark Grafx client you can easily ALLOW someone to send email to you at your hosted DOMAIN with After Dark Grafx by adding that email address or domain to the Spam Assassin White List Settings. If you need help setting this up, please contact us.
QUESTION: I am having problems emailing others!
ANSWER: When you first email someone, ask that they add you to their WHITELIST or APPROVED senders or their ADDRESS book. Each email service and software is different. Please see your HELP file on the software or service that you are using for more information.
HOSTING SUPPORT

SITE HELPER (complete information about how to manage your website)


How to create dynamic web content and CGI

FTP Settings


Free FTP SOFTWARE Filezilla
Secure server info (SSL)
If you would like to secure your website, please let us know so we can authorize the request. You may need to secure your website for E-Commerce. Some clients utilize shopping carts from third party providers that run the shopping cart on an external server and may already have a Secure (Digital Security Certificate) Gatway of their own so you may not need to purchase or install a Digital SSL. Here are the Steps in getting an SSL.
1. Contact After Dark Grafx, Inc. for authorization.
2. We will assign you a dedicated IP address
3. We will activate SSL capability for your website.
4. We will Generate a Certificate Signing Request (CSR) and Email it to you. You will need this to purchase your SSL. If you are purchasing a Digital SSL from After Dark Grafx, Inc. you do not have to worry about any of the above. We will take care of it for you.

Purchase a Digital SSL for your website NOW
Website Statistics
Your will need the Username and Password for the SITE ADMINISTRATOR that was sent to you when you setup your account.
You can view your website statistics online by going to:
a) http://your-domain-name.com/stats/
If that doesn't work, you may need to go to:
b) http://your-domain-name.com:2222
Once Logged in:
- Select Statistics/Logs
- Click on the domain name to view Webalizer stats.
Must be a full 24 hour cycle to see new daily statistics.
If you need this information resent to you, please contact us by clicking here
QUESTION: People are having problems viewing my website!
ANSWER: Their IP address or network may be blocked by our firewall. Please have your client go to: http://www.ipchicken.com(the ipchicken website is not affiliated with After Dark Grafx) to get their IP address. Once you have their IP address just email it to our support department and we will determine whether they are on an offending network and either allow or deny their access. Since all of our servers and service is located in the U.S. we have some restrictions on who can view or not view our websites. This is for the overall security off all of our clients and our networks. In the event that this is a significant issue, we can mive your website to a server outside of our network (additional fees will apply)
E-COMMERCE SUPPORT

How to setup your Miva Merchant


Miva Setup and Testing


Miva Merchant Support: www.mivamerchant.com


Miva: How Do I... (just select the version of miva you need to see the documentation)
MERCHANT ACCOUNT SUPPORT
Authorize.Net (Merchant Account Provider)
877-447-3938 - Support Hours: Monday through Friday, 6 AM to 6 PM Pacific time
Website: www.authorize.net
Card Service International (Merchant Account Provider)
(800) 456 - 5989 x 4100 - Toll Free 24x7
Website: www.cardservice.com

Merchant Admin Area (Manage your Merchant Account thru Card Service)
Website: www.linkpointcentral.com


DOMAIN SUPPORT

Transfer your Domain Name to After Dark
LEGAL

Acceptable Use Policy


Privacy Statement


Website Terms and Conditions
Still can't find the answer you are looking for? Click here to view our extended FAQS page or contact us.