Freshen up your Website!
Customers or visitors of your website want new and up-to-date information about your business product(s) and services. To ensure that visitors return to your site you must periodically "refresh" the site. This is also a vital component in search engine visibility. If you are in retail or a service business you must update product pricing, packaging, new or changed services etc...to keep up with your competitors.
If your site needs an update and you think you must hire an in-house web person, think again. After Dark Grafx has Web Maintenance plans to suit every size business and budget. As always, quotes for our work are customized so you pay for only those services needed. A complete needs assessment can be performed before the quote if you so desire. Initial consultation is always free.
Why After Dark Grafx Website Maintenance?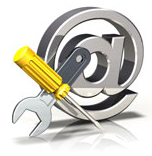 Our commitment is to make updating and maintaining your website a simple, stress-free experience. We provide personalized custom service, and our multi-step quality control process ensures full attention to detail of your website.

Communications are easily handled by e-mail, fax and/or telephone. You can expect to be contacted by our expert team within 24 hours from receipt of your website maintenance request. We always try, and usually succeed, in accommodating any rush or emergency changes from our clients. Revisions that can be performed in less than half an hour are usually executed within 24 hours.

Although we do many new projects from inception to completion; we also have numerous clients who come to After Dark Grafx with an existing site that they would like redesigned or maintained.
Affordable Website Maintenance May Include but is not Limited to:

Update existing contents & graphics such as special offers, product changes, pricing changes, new product and services announcements


Adding, updating and removing Web page content or Web pages


Adding, updating and removing products from online catalogs


Resizing and uploading images

Adding, updating and removing FLASH, Audio or Video


Website optimization for search engine friendliness and/or faster load time


Search engine and Web directory submissions


Automatic link check and corrections


Advice and guidance on website management and marketing via phone, email, or Webinars


General Internet orientation education


Assisting clients in the usage of email and control panel


Acting as a liaison with your web hosting company


Site Administration Support (Including e-mails)


Identifying and correcting site errors


Search engine optimization


Shopping cart product updates and MORE!

See Our Graphic / Web Design Portfolio

What our clients say about us
To learn more about how After Dark Grafx's custom web design process can boost your website's net worth, please contact us. After all, "We Work After Dark, So You Don't Have To!"
Thank you,
James Byrne, Owner, Information Architect